Midtown is known as the center of the arts in Atlanta, and for a good reason. Our local area is home to a variety of must-see galleries and museums. There are also incredible events and art walks! During your stay, we encourage you to check out the many Midtown Atlanta art galleries near Stonehurst Place. To make it easy, we've compiled information on the best ones to see!
The art galleries in Midtown Atlanta are just one example of spectacular attractions you can find here. During your stay, we'd like you to get the full Atlanta experience. Request your free Travel Guide now to find out what else our city has to offer! Discover top local restaurants, shops, museums, outdoor activities, and more. We deliver this digital guide directly to your inbox so you can start exploring the city right away. Get yours now!
Some of the Best Art Galleries in Midtown Atlanta
High Museum of Art
As part of the Woodruff Arts Center, the High Museum of Art serves as a cultural hub of creativity in Midtown. Explore exhibitions of paintings, sculptures, crafts, and more from different time periods and civilizations. While you are free to explore the museum, building renovations and improvements are ongoing for the summer of 2018. Expect new and improved areas for various art collections!
Atlanta Contemporary
Feel free to check out Atlanta Contemporary, just ten minutes from our bed and breakfast. This institution specializes in contemporary art with several rotating exhibitions. For over 30 years, they have brought unique artwork from around the world to the local community. Don't worry about admission fees; Atlanta Contemporary is free! You can also participate in fun and educational events throughout the year.
DawnArt Studios
Support a local artist in Atlanta at DawnArt Studios. Dawn Kinney Martin has received continuous acclaim for her expressive oil paintings at art shows and competitions. The focuses of her artwork are land, sea, and plein air. After teaching in SCAD Atlanta and The Atlanta College of the Arts, Dawn now offers classes for the public. You can easily walk to her gallery from your room at Stonehurst Place!
Trois Gallery
You can also get a look at the many exhibitions of Trois Gallery. Located in the SCAD building of Midtown Atlanta, this gallery features creations from top artists, students, and professors. View paintings, sculptures, and contemporary art displays throughout the year. You'll even be supporting SCAD's programs advancing education and creativity for students and the community.
Hi-Lo Press
Hi-Lo Press on Charles Allen Drive functions as a printmaking studio and art gallery in Atlanta. This new addition to the area is worth a visit. You can check out their letterpress works as well as the artwork of up-and-coming talent. The studio even offers classes and workshops to learn about their process!
Barbara Archer Gallery
To view contemporary artwork from some of the most talented up-and-coming artists, peruse the collection of the Barbara Archer Gallery. Visit their website to learn about the artists and view some of the innovative pieces they have created!
Enjoy Elegant Lodging Surrounded by Artwork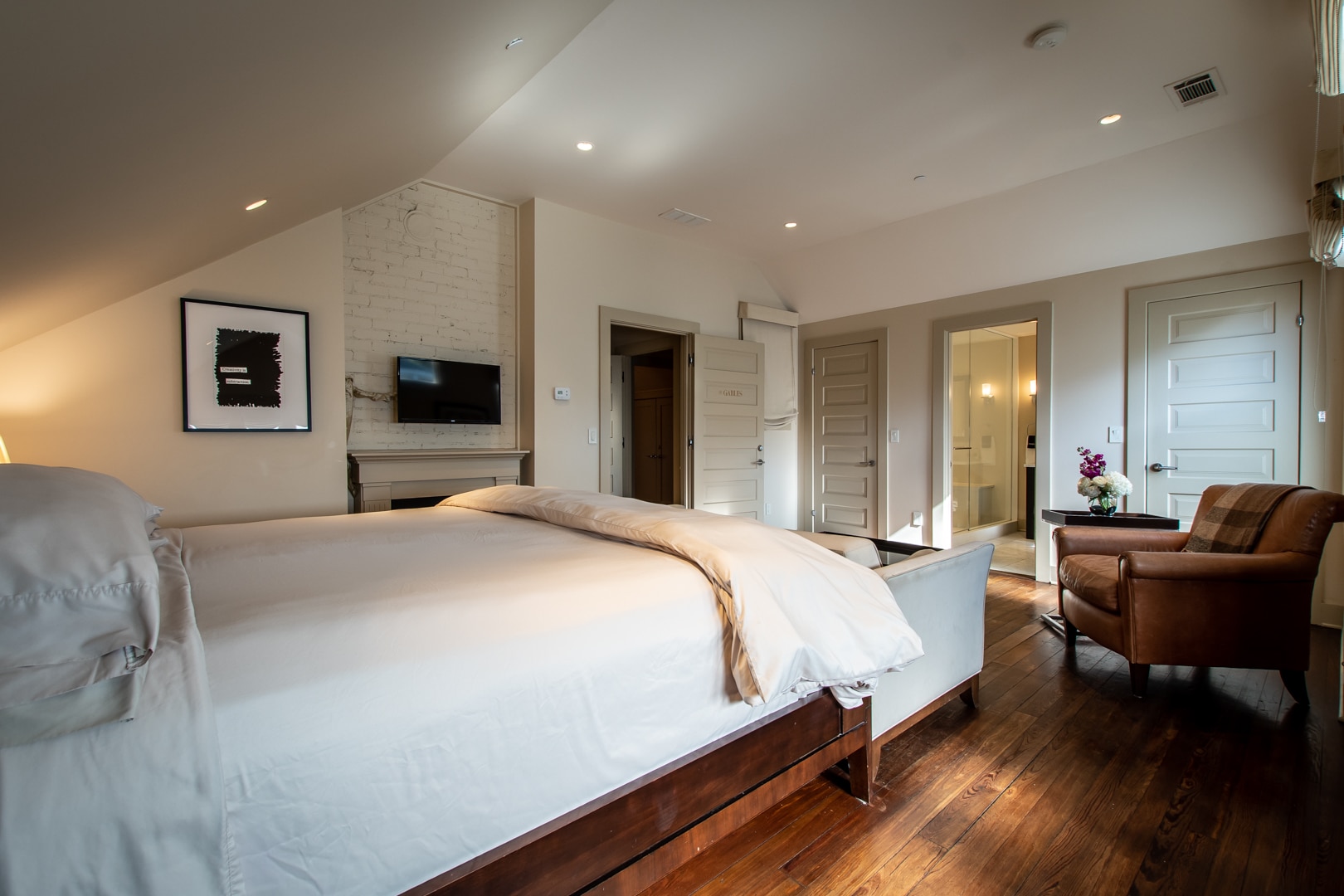 Did you know that you can view more artwork at our bed and breakfast? When you stay at Stonehurst Place, you get to enjoy our very own collection of museum-quality artwork on display. One of our elegant guest rooms, the Gables Suite, has original artwork, a luxurious king-size bed, a large sofa, and a writing desk. You'll also enjoy marble bathroom floors, plush bathrobes, and a delicious gourmet breakfast each morning. Check our availability and book your stay!